Bold Poker 3.4 is available today and brings a new four-color deck as well as a second red card deck.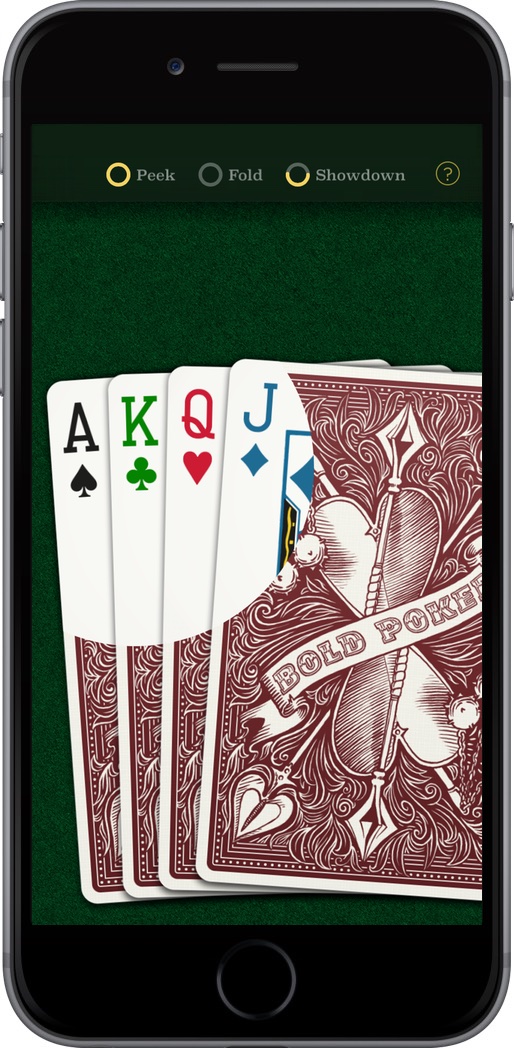 Are you sick of betting on an imaginary flush? With Bold Poker 3.4, available today for iOS and Android, this is a thing of the past: just enable the new four-color deck.
Unfortunately, there currently can be some serious delays receiving a dealt hand from the server on bad Wi-Fi networks. While we are trying to solve this properly, it's currently possible that a dealt hand is received by a player with, at worst, up to 100 seconds delay. This, though, happens very rarely — we've personally observed this only in less than 10 hands out of probably more than 6,000 hands played. To make things clearer, we've introduced a second red card back, that's used on every other hand. This way you can tell by the color that you've been dealt a new hand, instead of having to check the hand number.
Lastly we've fixed a few bugs, namely:
It's no longer possible to "throw" the dealer button on the board cards so it covers up the rank.
The brightness should now always be correctly reset when you fold and quickly switch to other apps.
On iPad, a fold is no longer undone when switching apps.
We've also updated the server along with the apps and now require everyone to be on the latest version of Bold Poker so please make sure you've updated to version 3.4 before you try to play your next game!
We hope this release makes the Bold Poker experience smoother than ever for you. As always, please let us know if you encounter any issues via [email protected] and keep dealing with it!